In season one of TIW, five characters are introduced. A character from STNL, General Zeerois, is also used. These characters are Xavier (The main protagonist), Kevin (Xavier's best friend), Roy (A tough Roizelle), Charles (An odd, funny Kleekoonanoni character), and Collin (A nerdy Nalstorr). The series is filled with humor. Throughout the series, many more characters are introduced and killed. Roy even dies in the second episode.
ERROR 404: WE AIN'T GOT ANYMORE INFO!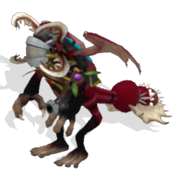 Xavier, Charles, Collin, and Zeerois are the only living original characters.
Xavier has been in a coma for most of season 1.

Xavier was originally going to wake up from his coma in season 1, but eme12 had a different plan for when he'd wake up.

Williezk may revisit this later on.

Immediatly after Magnus Beceri cut off Zeerois's hand, Magnus Beceri loses his eye to Blake.
This is War has had many different versions. The newest version is so far the best (in eme12's opinion) and a lot different from the other versions.
Dangling plotlines from the series were resolved in STNL².
According to eme12, it was cancelled because fungus3 and williezk would not stop ruining his plots.